Casey Lasnier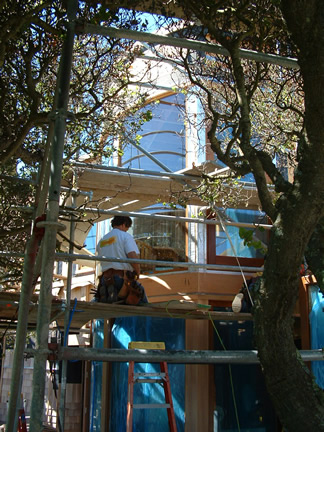 Casey was born and raised in Mill Valley, Ca. Casey's father was a custom jeweler by trade and a builder and cabinetmaker by passion. Casey apprenticed in his father's workshops, learning beside an artist and craftsman. As a teenager, while helping his father remodel and restore an Arts and Craft bungalow in Corte Madera, Casey got the bug to become a builder himself.

After general education courses at the College of Marin, Casey began working in the construction trades. He completed four years of Apprentice Training with Carpenters Union Local 751, working primarily on commercial projects in Sonoma County. He returned to Marin County in 1987 to work on high-end custom homes, first as a carpenter, then as lead carpenter and foreman.

In 1990, Casey joined a commercial/public works firm as a site superintendent. His first project was the construction of the Feline Conservation Center at the San Francisco Zoo. There, he worked directly with zoo staff, architects, engineers and city officials to complete the project on schedule and under budget. Casey also oversaw the construction of the Australian Walk-About exhibit as well as several other improvements at the zoo. For the same firm, Casey completed several public works projects at community colleges throughout the San Francisco Bay Area.

In the late 1990s, Casey returned to custom-home building in Marin County where he supervised several world-class residential construction projects as a superintendent for high-end Marin residential contractors.


Casey obtained his general contractor's license in 2001 and launched Portico Builders. His goal from the beginning was to provide clients with the highest level of quality and craftsmanship that would stand out among the many outstanding residential contractors in the San Francisco Bay Area.

Since then, Portico Builders has completed more than 35 significant projects in San Francisco and Marin, including four new homes and several comprehensive remodels.

Quality, attention to detail and the highest craftsmanship are the hallmarks of a Portico Builders project.